How to succeed as a professional photographer
You may know by now I tell it like it is, and truth is becoming a successful photographer in Australia isn't about skill, it's about reach.
Skills help though, especially if you want word of mouth (excellent marketing) and establish yourself as professional photographer for years to come.
I've known amazing photographers fail because they don't have a clue how to market themselves. Are you one of them?
I'm sure you follow some great photographers on Instagram, but did you know the ones with a huge following aren't just good photographers, they're also good marketers.
(Some aren't even good photographers 🤫).
In this article I'll give you some of my best tips on making your photography business work, or at least give you the pointers to get you thinking, adapting, and succeeding. I've had a career in marketing, so I know this stuff works.
Hopefully by the end of this guide you'll be all set to succeed as a professional photographer in Australia, and hopefully earn a good income.
How to succeed as a professional photographer: The basics
The cold, harsh truth, and a good mindset
Photography isn't the most lucrative business. For most it's a hard slog.
You probably know already most people undervalue photography as a skill which takes years to learn and perfect. "Hey mate, any chance you can take some snaps at our wedding?"
It's not the only trade where this happens. "Hey, you work in computers don't you?"… and then "Can you help me fix my anti-virus?".
Both translate to "Hey, can you use your many skills, years of experience, and expensive equipment to work for me, for free?"
Fact is, it's hard to earn money in an industry where the general public perception undervalues your trade.
Nevertheless, we all know the importance of photographs. They market products, sell houses, remind us of our baby's first months, or our wedding day!
Photographs are undeniably worth paying for!
You just need to convince potential clients of that!
I may offend by saying this, but most successful photographers become successful because they have the luxury of not having to work at a desk slogging away scraping money to pay rent, bills, or the ever-inflating price of groceries. Or shall we say, what most of us call, "the real world"?
It's a generalisation, I know, but the fact is it's much easier to start a photography business when you have money behind you and oodles of free time. Most successful entrepreneurs benefitted from the same, uh, privileges.
The rest of us, however, just need smarts (and I'm going to cover some of those smarts below!)
Sometimes we find a period in our lives where it becomes more possible for us to pursue the career we want to do rather than the one we've had to do. These can be exciting times! Perhaps we've knocked our mortgage down, or perhaps our kids have just started school and we can pursue a photography career?
No matter where you are in life, it's still possible to pursue your desires to become Australia's best bikini model photographer or deck out your garage as an awesome pet photography studio!
If you know your way around a camera and know how to promote yourself, it can be very profitable. Just keep in mind you may have to start your business by building awareness during your lunch hours, and doing photoshoots at weekends.
It can be done!
So don't worry, and keep reading!
Two requirements of being a successful photographer in Australia
If you've been a photographer for a while then these might be like teaching how to suck eggs, but they're absolute fundamentals.
1. Educate yourself and know your stuff
You can go to TAFE and learn how to use a camera properly. It's a good starting point. I learned photography when I was 30, starting with a 6 week evening class, and I joined a local meetup group which helped my practice and learn from others.
YouTube is undeniably an incredible learning tool, and completely free. It's literally a bottomless pit of tips, tricks, and tutorials in whatever field you want to work in.
Experience will teach you so much more, so get out there, practice practice practice, enlist your friends, neighbours, and the pets of strangers. Every time you press the shutter or edit a photo in Lightroom you are becoming more experienced.
Learn from others. Actively ask people what they think of your work – what they like, and what they think sucks.
Passion goes a long way in learning anything in life. If you find you're not passionate, then you probably won't succeed.
2. Equipment – You don't need the latest camera, so it's not as costly as you think to "gear up"!
You can spend a fortune on the latest Canon or Nikon, but it won't make you good at your job, and it won't make you succeed. Most of the time it will just put you in debt, and you'll spend a long time recouping the money.
Don't overspend on cameras and equipment!
A bad workman may blame his tools, but a good workman weaves magic with even an average set.

I don't know who this quote came from, but it's totally relevant.
Depending on what field of photography you want to work in, you may find cheaper alternatives like Fujifilm, Sony, or Olympus will do as good a job if not better than a heavyweight DSLR. These days there's some amazing camera technology at an affordable price.
If you're starting out as a photographer in Australia then check the second hand market. Obviously do due diligence when buying second hand, but with so many retiree hobbyist photographers stocking up on state of the art equipment only to sell it a year on – the world is your oyster.
Even a 5 year old Canon or Nikon can produce photos of the quality you need. Sometimes even 10 year old bargain basement DSLRs will do the trick – I have totally professional clear as day 1.5m x 1m prints from a Canon I had 10 years ago, and that camera's probably worth less than 50 bucks.
Gumtree and Facebook Marketplace are your friend.
Good tip: Invest in glass.
By glass I mean lenses.
If a prime lens is suitable for your area of photography then that will be a better choice than a zoom lens – (1) it will give you better results, and (2) you will learn to master it faster than having to faff around with zoom.
A good lens will outlast any camera body, so it's more return for your money.
How to market yourself as a photographer
If you don't think this section is applicable to you, feel free to skip it by clicking the "X" at the top right of your browser. There's no point you reading any more, and you'll likely fail as a professional photographer.
Marketing yourself is the #1 most vital part of succeeding as a professional photographer in Australia.

Me, talking with experience.
How you market yourself as a photographer depends on your field of photography, but the main thing you want to consider is how to reach your potential clients.
I'm a street photographer, so my Instagram account is something valuable for me to promote. You can follow my account here – mr.28mm.
See how I just promoted myself?
Every opportunity you get, get your name or business name out there.
When I first started marketing myself as a photographer I wrote an answer on Reddit, and (with some luck) it resulted in $2000 of work! I confess that was an exception rather than the rule, but my point is you never know who it will reach or what you can earn from it.
How to market yourself as a photographer: #1 The Internet & Social Media
These days social media is likely the best way you can market yourself. When you know what you're doing it's very easy to reach people. The more people you reach, the more potential clients you reach.
I find Facebook is the easiest way to reach people, especially in a local area, but don't turn a blind eye to other social media platforms. Reddit can also have excellent reach in a local community, but if you're clever you can even harness Gumtree and similar platforms.
It's too big a topic to cover here, but building a decent website, blog, and building those assets up are something you should consider once you're semi-established. If you register a business with an ABN and address, then I highly recommend registering with Google Business – this will get you on Google Maps which is an excellent way for clients to find you, and Google Reviews can make or break any business these days.
The importance of Google Reviews (and other review platforms)
In fact, good reviews are an absolute must for a photography business to succeed. For this reason, if you take any photographs of people (even for free), then ask them to leave you a review on Google.
Not only does this make you look good, trustworthy, and professional, it tells Google to show you up in search results more often.
You probably do it all the time yourself – like when you're looking for a good pizza restaurant nearby, you'll search Google Maps and say to yourself "3.8 stars, nah, 4.2 stars… might read the reviews… oh, 4.5 stars – let's go there".
It's the same with anything, your potential clients will only call you up if your Google reviews are better than local competitors.
Most of the time your local competitors will have a few reviews from clients who felt like reviewing them. It takes no time at all to be a little proactive and ask clients to leave you 5 stars. They don't even need to be clients to get you looking better than the competition, only a few good friends and family – just make sure the reviews are credible and an accurate reflection of you and your work.
Example #1: You want to be a professional wedding photographer
Local Facebook communities are perfect for raising awareness of what you do, and once you establish yourself in a local community you can become the go to wedding photographer in the area.
With social media you tend to do better with subtle marketing. If you join a community group and post "I am a wedding photographer. I charge $1000. Call me now!" then you'll likely get only negative responses or banned from the group.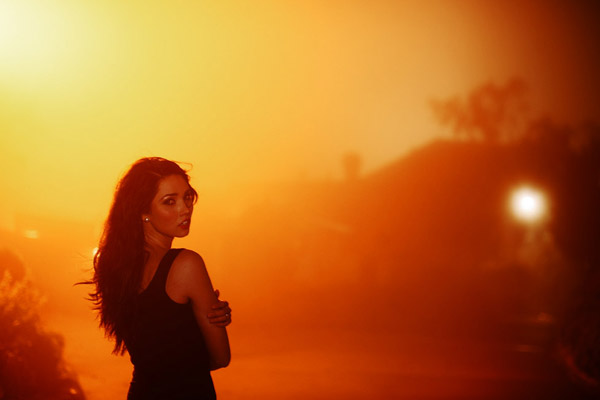 A better way is this – Let's say you recently photographed a wedding on a beautiful Australian beach. Maybe you have a photograph of the sunset which doesn't clearly depict the bride & groom or other guests, or maybe it's just a nice photo of the sunset. Post the photo with a comment saying "Such a beautiful sunset taken from a wedding shoot I did the other day at Trigg Beach". People are much more drawn into this, and not only will you get 100s of "likes", you're also promoting the fact you're a wedding photographer.
Example #2: You want to be a professional pet photographer
The ways you can market yourself as a professional pet photographer are similar to be a wedding photographer. Try and join local pet groups and use the same technique mentioned above, with a comment like "I was so lucky to photograph beautiful Cavoodle Daisy the other day. She was so obedient and smart in the studio it was such a pleasure to photograph her! Here's a photo Daisy's owner gave me permission to share – what do you think!?"
How to market yourself as a photographer: #2 Word of Mouth
For any good photographer this will happen naturally. If you take some great photos of someone's pet Pug, then they're bound to show everyone they possible can. With any luck they'll mention your name as well, or people will ask them.
You can help get the word out with the power of suggestion! Encouraging people to spread the word is a great habit to get into.
For example, when Mary exclaims how thrilled she is at the gorgeous photos you took of Molly the Pug, simply say how happy you are for taking them, and suggest she tells her dog lover friends about you.
How to market yourself as a photographer: #3 Door to Door & Old Skool Techniques
Back in the olden days, like the 1990s, there wasn't such a thing as Facebook, Social Media, Google Maps, or even The Internet.
But did you know the old skool techniques for building a business back then can work just as well today, perhaps even more so?
Let's consider some old skool marketing techniques which can help you become a successful photographer in Australia:
Advertising / Notice boards – my local Coles (Coles, Scarborough, WA) still has a huge advertising board at the entrance where you can place an ad for free for a few weeks. Loads of people read those ads, especially when people are hanging around waiting for the store to open. Ad boards are everywhere, so keep an eye out. Just make sure your ad is appealing, both visually (such as an example photo), and captivating wording.
Flyers – this can be costly and sometimes lead to unwanted backlash on social media, but depending on what area of photography you're working in this can really get you off the ground. A good use of flyers is to introduce yourself as a local photographer, perhaps offering a discount or special offer. I'll cover how you should write such marketing a bit later.
Door to Door or Business to Business – Let's say you want to get into real estate photography. Put together a portfolio of work, even if it's your Uncle Bob's swanky 4×2 with pool, run it by anyone you know who can offer constructive criticism, put on a shirt and tie (or at least dress respectably), then approach businesses direct. A friendly and professional approach can work really well, keeping in mind most local real estate agents will have a regular photographer. New and independent real estate agents spring up all the time, so keep an ear to the ground, or check out a website like realestate.com.au to see which local agents may benefit from your skills. Prepare for lots of dead ends, but with so many potential businesses out there just keep trying. Leave your card, and who knows, a few months later they may give you a call. Just don't pressure anyone.
The importance of how you write when marketing yourself as a photographer
Did you know one of the highest paid photographer jobs is medical photography?
I don't know about you, but I got into photography to show off my skills as an artist, not take photos of sick patients.
As photogs we're creative people with passion!
It may also surprise you Social Media Photographers, YouTube Creators, and the new trend of online "Influencers" can make even more money than medical photographers. Now that's more exciting!
I want you consider the four paragraphs above. I could've written "Medical photography is one of the highest paid photography jobs", but that's pretty boring to read. Who cares?
Do you think it's more involving as a question?
It's also good to keep your paragraphs short and to the point.
Oh, and it really helps if you use words like "we" or "us". Crazy as it may sound, people will identify with you more if you're on the same level. It also helps if you refer to potential clients as cool groups of people, such as "Hey dog lovers", or the "photogs" I said earlier. Better yet, combine the two – "Hey fellow dog lovers!" or "Hi Perthlings".
I'll expand on these tips and tricks in the next section, and I hope you keep these in mind when you're writing a social media post, replying to a comment, writing your marketing flyers and adverts, or even when writing and responding to potential client emails!
Writing tricks that can help you sell your photography!
Copy + Content
Marketing yourself as a successful photographer on social media, emails, flyers, or anything else can be make or break depending on how you write.
In marketing terms, you need a good balance of copy and content.
Copy, to you and me, is marketing spiel. You need this, because you're selling something – either photo shoots or prints. The trouble with copy is people tend to instantly dismiss it.
"Hey, do you want to buy a photoshoot?"
Nope, I thought not! Sounds expensive and I don't need it.
Content on the other hand is useful information. This is what draws people in, and in order to sell you need to subtly weave in a bit of copy.
Let's consider an example where you see a Facebook community post with someone (lets say Lisa) asking for local wedding photographers.
There's already a load of recommendations like "Call Jill 0777123456" or "Janes Wedding Photography". You know how it is – there's always competition.
Instead of replying with "I'll do it" or "I'm a wedding photographer, call me", try and reply with something useful:
"Hey Lisa, it's worth checking Google reviews of whoever you choose as a lot of cowboy wedding photographers have sprung up recently. There's also different styles and approaches – here's a wedding shoot I did recently with an urban 'retro' style which worked really well (I'm a wedding photographer myself), but feel free to check out my portfolio and give me a shout if you want to chat further!".
Putting a little effort in gets you noticed, and you may find a message from Lisa later asking if you can be her wedding photographer!
How you can hook potential clients with wording
I confess to not being the best writer, but you should definitely consider the following bullet points when you write anything in terms of "marketing" your business, whether it's a Facebook comment or flyer.
I realise I've covered some of this stuff already, but you need to get used to these methods as soon you'll be using them daily as you build your successful photography business!
Keep sentences short and interesting. TLDR (too long, didn't read) is a real thing, and you'll lose clients quickly if you waffle.
Involve your audience. Don't say "I'm a pet photographer so let me know if you want me to take photos of your dog", and instead say "How cool would it be to have a photo like this of your dog?" [along with cool dog pic]. Interacting and asking questions works really well!
Write directly to your "client persona". If you post something on a Facebook community group you'll reach all manner of people, but if the only ones you care about are people with classic cars, then write directly to them. Forget the rest. "Hey petrol heads, I'm hoping for feedback on these photos of a client's Monaro. What do you think?" – you'll find with this approach you'll directly get the attention of car lovers, but you'll reach others too.
Align yourself with your audience. Be one of them. Let's say you're printing a flyer and know you need to capture someone's attention in the first line before they bin it. Consider this – "Wasn't Scarborough a great place to grow up?". You're immediately drawing them in, because they grew up in Scarborough too! Then you can add "As a professional child photographer I feel so lucky to call Scarborough both my home and workplace, and having children of my own I know the importance of a real photo album". You're now connecting with proud local people, like you, with kids, like you – they're hooked!
Be an authority without being pushy or arrogant. As a professional photographer it's very important to (1) appear professional, and (2) give the impression you will do a good job. You should always give the impression you're confident and know what you're doing. Saying "I can shoot your wedding but I've never done it before so I'm a little nervous" won't get you paid.
The above bullet points are just a few things to consider every time you write anything to promote your photography business.
If you have any comments, feedback, ideas, or complaints, then say so below! I'll likely add to this guide in the future, so anything which can help us better ourselves as professional photographers!
A quick summary before you run off to succeed as a professional photographer in Australia!
I've used all the advice I've given above to succeed in not only photography, but other aspects of life and business as well.
Most of the above tips I've never written about before – I've kept them close to my chest! I swear they work, and you'll be surprised in this day and age of social media the difference a few words or a question mark is!
These are very powerful tools in marketing yourself as a professional photographer, and they can make the difference between failure and success!
If this information has helped, all I ask in return is you share this page with others (so we can help our fellow photographers), and follow my Instagram account mr.28mm (because followers make me happy).
I'm sure you'll love my photography, and if you do – come back and read some of my other guides!